Comfort Measures‎
This is not a full prenatal class. This is a hands-on session to practice coping strategies and to help you find practical tips for your labour and birth.
Dress comfortably, bring a birth/pilates ball if you have one, a comfortable pillow, and a yoga mat or bath towel for your comfort. We will practice positions on the floor. Inspired by Lamaze, Bonapace, rebozo, yoga, visualization, cranial sacral therapy, and years of Doula experience.
This class was designed as a complement to our prenatal class (group or private).
It is also a great refresher for those who have already taken a prenatal course, are having another baby, preparing for a VBAC, and is specifically designed for those wanting strategies to avoid pharmaceutical pain relief.
Labour partners are encouraged to help support the birthing woman and to expect homework.
Pregnant women who would like to come on their own are so welcome and invited to work directly with the facilitator / experienced Doula, Brandie Lekovic.
Cost of class is $75.
Infant Massage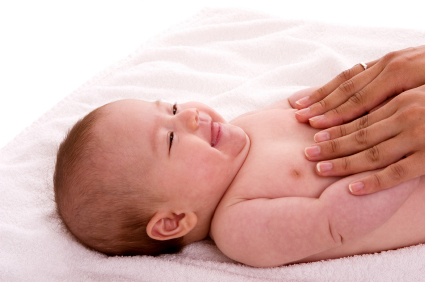 Infant Massage has shown to increase oxytocin (feel good hormone) and decrease cortisol (stress hormone) for both babies and caregivers.
We all need a little more of this! While others are social distancing - we will be encouraging special contact with those you care about and have in reach.
OCEA is offering Live online opportunities to learn this skill and to connect (with us, others, and your baby). Classes run for 4 sessions over 2 weeks (Wednesdays & Fridays) for $50. Max 9 babies / class.
Health-giving properties of Infant Massage include; growth and motor skill development, blood and lymph circulation, immune system stimulation, building bones, help with gas and colic, aid with deeper and longer sleep, emotional and physical bonding time.
Infant massage is a natural way to nurture and care for your baby. We tend to do it while holding them - without even thinking about it. Infant Massage classes teach a full body massage routine, the benefits of individual strokes, ways to communicate with your baby, and to have some very special time together.
The facilitator, Brandie Lekovic, will lead you through individualized massage sessions. Sessions include massage oil (if joining an online session see notes) and handouts. Classes are intended for babies who are pre-crawling and provide lots of clever hints on carrying massage into the years to come. Brandie received her training with the International Association of Infant Massage and loved being able to use these tools with her boys.
Live Online Class: 4 sessions over 2 weeks (Wednesdays & Fridays) for $50. - a community offering during Covid social-distancing.
Group class for $75 (4 sessions over 4 weeks). - on hold until further notice.
Private in-home sessions are $100 for a single session or $150 for 2 sessions (giving better chance for practice). You are welcome to invite a group of baby's new friends for an additional $10 per baby. Grandparents and other people who will be massaging baby are always welcome. - on hold until further notice.
Refund Policy
: When cancelling a prenatal class after it has been booked there is a $25 (CAD) administration fee. If the cancellation occurs less than 14 days before the class there is a 50% cancellation fee. If it is less than 7 days there is no refund. Request for date changes within 7 days of class will reflect a $75 fee. Please keep this in mind when registering and plan to be finished your session by 35 weeks of
pregnancy.
People who took our online class during COVID-19 had this to say:
Last weekend I was feeling super anxious about the unknowns of the birthing process, particularly in light of Covid-19. I feel so much better now after having taken this course. I feel much more educated, adequately prepared, and the fear of the unknown - while not gone, is way more in check now. Thank-you!
Erin was really good! We were both impressed by how easy she made it look even through these challenging times! Made us feel comfortable to ask anything.
Julia was awesome! Would have loved to do it face to face, but completely understood due to the current climate. It worked well online and was very information.
Again, the very frank and honest explanations of what to expect are extremely valuable. These are things that nobody ever tells you and are usually very difficult to talk about.
Erin is a fabulous teacher! Great personality, very approachable, very non-judgemental. She is also super knowledgable. Would highly recommend her and would love to hire her as a Doula if they are allowed to work again when we give deliver.
How easy it was to use Zoom. That this was offered as an alternative rather than just cancelling outright. That we didn't have to get up earlier and travel anywhere :)
Again thanks for all the work you've done to make the class accessible during this time and to update all the resources.
Lilly is awesome. She presented information in helpful ways that felt really supportive. I went into the class kind of panicked and came away with a sense of confidence and trust in my abilities.
Erin is amazing at her job, she made the class easy to listen and follow. Her energy brought the class to life, as it was filled with tons of information. It says a lot that it held my husbands full attention throughout ! Great class , great instructor!
I've been reading a lot about parenting and have a sister in law who is very passionate about parenting and I have been around to watch her raising three kids so I have been exposed to a lot of the philosophies. I really appreciated the break down of the sleep discourses and looking at the sleep training stuff, as I had a friend who sent me a huge amount of sleep training info that was like an airplane manual it was so complex and I thought it seemed a little intimidating and unnecessary/counterintuitive, so I was glad to hear that it is not the bible of baby sleep approaches.
We would highly recommend the OCEA's Bringing Home Baby class to any expecting parents. Our instructor was extremely knowledgeable and was very generous with sharing her time and vast experience. This was incredibly useful in helping us navigate the overwhelming amount of information available and left us with a great overview of the most important points of caring for a new baby as well as a long list of quality resources for more detailed information when we need it. Thank you so much Erin!
Julia is an excellent educator. Doing online classes on this topic must be challenging but we found it to be a very engaging, interesting and practical class. Julia's experience and vast knowledge is very clear. We really enjoyed Julia's personality and sense of humour which made the class fun to attend. She is also very good at providing a lot of information in a clear and structured manner and at ensuring that the key points are highlighted and memorable.
Reset Filters
There are no classes to display for these filters. Try selecting different filters or use the reset filters button.
Infant Massage
4 weekdays
Wed, July 15 · July 17 · July 22 & July 24, 2020
10:00 AM - 11:00 AM
Online Class Using Zoom
Register now


Comfort Measures
one evening classes
Mon, July 20 2020
06:00 PM - 09:00 PM
Online Class Using Zoom
Register now


Infant Massage
4 weekdays
Wed, Aug. 19 · Aug. 21 · Aug. 26 & Aug. 28, 2020
10:00 AM - 11:00 AM
Online Class Using Zoom
Register now


Comfort Measures
one evening classes
Mon, Aug. 24 2020
06:00 PM - 09:00 PM
Online Class Using Zoom
Register now


Infant Massage
4 weekdays
Wed, Sept. 16 · Sept. 18 · Sept. 23 & Sept. 25, 2020
10:00 AM - 11:00 AM
Online using Zoom
Register now


Comfort Measures
one evening classes
Mon, Sept. 21 2020
06:00 PM - 09:00 PM
Online using Zoom
Register now


Comfort Measures
one evening classes
Tue, Oct. 13 2020
06:00 PM - 09:00 PM
Online using Zoom
Register now


Comfort Measures
one evening classes
Mon, Nov. 16 2020
06:00 PM - 09:00 PM
Online using Zoom
Register now