Comfort Measures‎
This is not a full prenatal class. This is a hands-on session to practice coping strategies and to help you find practical tips for your labour and birth.
Dress comfortably, bring a birth/pilates ball if you have one, a comfortable pillow, and a yoga mat or bath towel for your comfort. We will practice positions on the floor. Inspired by Lamaze, Bonapace, rebozo, yoga, visualization, cranial sacral therapy, and years of Doula experience.
This class was designed as a complement to our prenatal class (group or private).
It is also a great refresher for those who have already taken a prenatal course, are having another baby, preparing for a VBAC, and is specifically designed for those wanting strategies to avoid pharmaceutical pain relief.
Labour partners are encouraged to help support the birthing woman and to expect homework.
Pregnant women who would like to come on their own are so welcome and invited to work directly with the facilitator / experienced Doula, Brandie Lekovic.
Cost of class is $75.
Infant Massage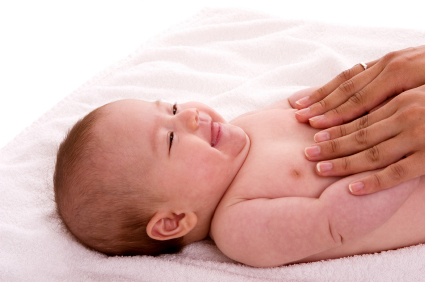 Infant Massage has shown to increase oxytocin (feel good hormone) and decrease cortisol (stress hormone) for both babies and caregivers.
We all need a little more of this! While others are social distancing - we will be encouraging special contact with those you care about and have in reach.
OCEA is offering Live online opportunities to learn this skill and to connect (with us, others, and your baby). Classes run for 4 sessions for $60.
Health-giving properties of Infant Massage include; growth and motor skill development, blood and lymph circulation, immune system stimulation, building bones, help with gas and colic, aid with deeper and longer sleep, emotional and physical bonding time.
Infant massage is a natural way to nurture and care for your baby. We tend to do it while holding them - without even thinking about it. Infant Massage classes teach a full body massage routine, the benefits of individual strokes, ways to communicate with your baby and to have some very special time together.
The facilitator, Brandie Lekovic, will lead you through individualized massage sessions. Sessions include massage oil (if joining an online session see notes) and handouts. Classes are intended for babies who are pre-crawling and provide lots of clever hints on carrying massage into the years to come. Brandie received her training with the International Association of Infant Massage and loved being able to use these tools with her boys.
Live Online Class: 4 sessions for $60. - a community offering during Covid social distancing.
Group class for $75 (4 sessions over 4 weeks). - on hold until further notice.
Private in-home sessions are $100 for a single session or $150 for 2 sessions (giving better chance for practice). You are welcome to invite a group of baby's new friends for an additional $10 per baby. Grandparents and other people who will be massaging babies are always welcome. - on hold until further notice.
Refund Policy
: When cancelling a prenatal class after it has been booked there is a $25 (CAD) administration fee. If the cancellation occurs less than 14 days before the class there is a 50% cancellation fee. If it is less than 7 days there is no refund. Request for date changes within 7 days of class will reflect a $75 fee. Please keep this in mind when registering and plan to be finished your session by 35 weeks of
pregnancy.
People who took our online class during COVID-19 had this to say:
Given the continued need to physically distance and wear masks, OCEA will continue to offer all classes online throughout 2021.
We dearly want to support the health of our expectant families.
We had a wonderful experience during our online class session. Misty is incredibly knowledgeable and the curriculum is easy to understand for first time parents. It helps to learn beyond medical knowledge presented in a textbook. We left the training feeling much more at ease about the birthing process and have many resources to refer back to if needed. Thank you! Crystal and Serge
Lilly is excellent! Would definitely take a course with her again. She is not only very knowledgeable but friendly as well. We really enjoyed the class!
Lily was simply excellent! Truly a gifted educator and so engaging and compassionate in her teaching. Her clear care for the group especially during the time of COVID-19 was so much appreciated! My partner and I really appreciated every aspect of the course and the fact that she made it so personal despite the online format! Thank you so much Lily!
She was fantastic. I really appreciated her non judgmental approach. She provided information in a scientific manner, without inserting a personal bias.
Brandie was a wonderful instructor. She was organized and personable. The content was fresh and relevant. It exceeded our expectations!
Erin was really good! We were both impressed by how easy she made it look even through these challenging times! Made us feel comfortable to ask anything.
Erin was amazing and I would highly recommend her class. We found it incredibly valuable and she was just so lovely!
Misty is a fabulous childbirth educator! Both my husband and I felt comfortable asking questions during the class, which is not always the case with online courses. I would 100% recommend this class to a expecting mothers and their partners. What a great way to prepare for the upcoming birth of our little one! :)
Erin was absolutely phenomenal as a course facilitator and her knowledge of all subjects relating to the course was outstanding! She has a casual approach to many baby topics that would otherwise cause great (unnecessary) stress for parents-to-be. The combined experience of having her own family and working with new parents over the years adds an amazing wisdom that was so refreshing to see. It was too bad the course was online as I'm sure it would've been more engaging in person, overall I give it an A+.
Lily made online learning more community like than we thought was possible! It was also very nice to learn from the comfort of our own home!
Brandie was great! She was non-judgemental, calm, and made it all feel informative but not scary. We weren't sure what to expect and felt that we had an instructor who valued healthy mom, healthy baby and involved partner more than anything else. That was really important to us.
This course was provided via zoom and I don't feel like I missed out on anything by participating virtually. The instructor was extremely knowledgeable and answered every question. I felt her sympathy for all of the birthing women during this COVID19 environment.
Reset Filters