CPR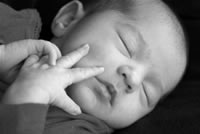 CPR classes during Covid-19 will be offered online. These classes will be a non-certified class offered in a virtual, interactive format following the guidelines of Heart and Stroke. For our group classes, we ask that all participants keep their video on throughout the class. If you prefer not to be seen, we recommend a private one on one session with one of our instructors. Is your baby getting ready to start solids? Does the idea of Baby Led Weaning leave you feeling fearful of choking? Join us for a session that addresses the gag reflex, normal behaviours when introducing solids and more!
Home safety and injury prevention for babies and children
Definition of CPR
Performing CPR on children and infants CPR one-rescuer
Clearing airway obstructions in children and infants (choking)
Barrier Devices
CPR and the Heimlich on adults
Recognition of cardiac arrest and respiratory arrest
We also offer private in-home sessions for groups of four or more at your convenience anywhere in Ottawa. For locations outside the greenbelt, including Kanata, Barrhaven, Stittsville, and Chelsea, Gatineau, a minimum group of 5 is requested. - on hold due to the pandemic
Cost of CPR for in-home $40. per person (CAD).
Refund Policy: When cancelling a prenatal class after it has been booked there is a $25 (CAD) administration fee. If the cancellation occurs less than 14 days before the class there is a 50% cancellation fee. If it is less than 7 days there is no refund.
People who took our online class during COVID-19 had this to say:
Given the continued need to physically distance and wear masks, OCEA will continue to offer all classes online throughout 2021.
We dearly want to support the health of our expectant families.
Before Covid-19, we both had very busy schedules and it was easier for us to sign up for one single day. We've also been reading a lot of books in preparation so we felt that a one day session would be ok. It definitely exceeding our expectations. I think my partner is much more ready for when I'm in labour as am I!
Was great to be in the comfort of your home. At 33 weeks much more convenient to be on your couch, have your own pillow and make yourself comfortable.
Brandie is an exceptional teacher, I really enjoyed her teaching style and found all the information to be super informative. She made me feel more confident in my body and the birthing process and took away some fear of labour. I also enjoyed listening to her experiences as a doula matched with the information of what was happening medically. Brandie is very approachable and I felt really comfortable asking questions and having a dicussion.
Julia was very informative and engaging. She kept the topics interesting through the online format.
Julia's manner and the information she provided was so reassuring. We feel prepared for the birth and so excited to meet our baby girl. It was a delight to be enrolled in her class.
Comfort of my own home :)
I loved Brandie's chat at the end about plugging the baby into your life, and seeing the first 6 weeks as "vacation."
Last weekend I was feeling super anxious about the unknowns of the birthing process, particularly in light of Covid-19. I feel so much better now after having taken this course. I feel much more educated, adequately prepared, and the fear of the unknown - while not gone, is way more in check now. Thank-you!
Bringing Baby Home was a great class! Brandie's informative, non-judgemental teaching was perfect and set a great tone for us as first-time parents. She did a great job of creating a sense of community in the online class. Thank you!
Erin was really wonderful and had so much information that was easy to follow and was non-judgemental with any questions you had. She did really well with teaching the class online given the current situation.
She was fantastic ! Made the class fun to attend !
Brandie sent us SO many links and provided us with a lot of different reading materials... a dream for someone like me who loves information
Reset Filters