Infant Massage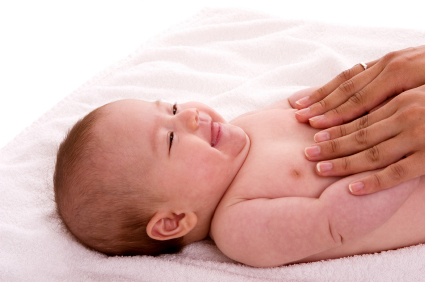 Infant Massage has been shown to increase oxytocin (the feel-good hormone) and decrease cortisol (the stress hormone) for both babies and caregivers. We all need a little more of this! While others are physically distancing - we will be encouraging special contact with those you care about and have in reach.
OCEA is offering Live Virtual opportunities to learn this skill and to connect (with us, others, and your baby). Classes run for 4 sessions for $60.
Infant massage is a natural way to nurture and care for your baby. We tend to do it while holding them - without even thinking about it. Infant Massage classes teach a full body massage routine, the benefits of individual strokes, ways to communicate with your baby and to have some very special time together.
The facilitator, Brandie Lekovic, will lead you through individualized massage sessions. Sessions include massage oil (if joining an online session see notes) and handouts. Classes are intended for babies who are pre-crawling and provide lots of clever hints on carrying massage into the years to come. Brandie received her training with the International Association of Infant Massage and loved being able to use these tools with her boys.
Live Online Class: 4 sessions = $60.
Private virtual sessions are $75 for a single session or $120 for 2 sessions (giving better chance for practice). You are welcome to invite a group of baby's new friends for an additional $10 per baby.
Refund Policy: When cancelling a prenatal class after it has been booked there is a $25 (CAD) administration fee. If the cancellation occurs less than 14 days before the class there is a 50% cancellation fee. If it is less than 7 days there is no refund.
People who took our online class during COVID-19 had this to say:
Given the continued need to physically distance, the size of our room rentals and the evolving state of our global pandemic, OCEA will continue to offer all classes online throughout 2022.
We dearly want to support the health of expectant families.
Julie was very kind, attentive and informative. We found the course information credible and were comforted by the fact that she has midwifery training. We are strongly considering taking the "Bringing Baby Home" course as well. Thank you for adapting the course material.
Really enjoyed this class. So informative! I would definitely recommend it to friends who are about to become new parents. Erin was an excellent instructor and did a great job presenting the information. Particularly amazing how quickly this class was adapted from in-class to online and how thorough and easy to follow it was. Our confidence as soon-to-be new parents has increased exponentially since taking this class. Thank you!
It really prepared us for the journey we are about to experience, we highly recommend everyone who is going to have their babies to take this prenatal sessions. Removes the fears and unknowns about childbirth. Being able to share your knowledge and experiences with the other new parents in the class was very helpful.
Fantastic - very engaging Clearly loves what she is doing and made the class fly by (even in a virtual setting). Felt comfortable asking questions & that we were getting very informed up to date information.
I had no idea what doing the class over Zoom would be like but Brandie was excellent!
She did a great job in making us feel comfortable to ask questions.
Erin was very personable and shared her expertise freely and in a non-threatening way. The way she laid out the information and gave us room to ask questions and determine the best route for our own choices was so appreciated. Her quick responses to questions on the chat was also most welcome.
The prenatal class through OCEA was amazing! It was so nice receiving information with my partner by my side. It led us to having continued conversations in our own home about pregnancy, our plans for labour, delivery, and postpartum. Brandie is an incredible educator. She makes everyone feel at ease, she is hilarious, honest, and nonjudgmental. She wants the best for each couple simply by making sure you are informed with the best information out there
Comfort of my own home :)
The Prenatal full weekend session was very valuable to us both. We went in a little concerned about labour and birthing, but came out with some many amazing advices and tips, and also full of knowledge that it helped us be more relax about it all. Highly recommend!!
Erin was absolutely amazing, very knowledgeable and kept the class interactive even in the online platform. Very helpful at answering questions and gave a lot of great tips.
Erin is AMAZING! She is warm, supportive and beyond knowledgeable. She is always available to answer questions. The way she presents information is truly superior. I'm sad that our course is over and we won't see her on a regular basis. Erin truly made the experience. My husband and I are so happy we took this course and had her as our instructor. Thank you so much, Erin!!
Reset Filters
There are no classes to display for these filters. Try selecting different filters or use the reset filters button.
Infant Massage
4 weekdays
Wed, Nov. 2 · Nov. 9 · Nov. 16 & Nov. 23, 2022
10:00 AM - 11:00 AM
Online using Zoom
Register now