Infant Massage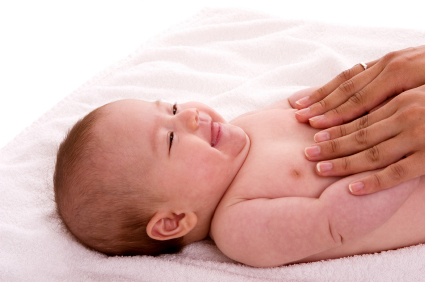 Infant Massage has been shown to increase oxytocin (the feel-good hormone) and decrease cortisol (the stress hormone) for both babies and caregivers. We all need a little more of this! While others are physically distancing - we will be encouraging special contact with those you care about and have in reach.
OCEA is offering Live Virtual opportunities to learn this skill and to connect (with us, others, and your baby). Classes run for 4 sessions for $60.
Infant massage is a natural way to nurture and care for your baby. We tend to do it while holding them - without even thinking about it. Infant Massage classes teach a full body massage routine, the benefits of individual strokes, ways to communicate with your baby and to have some very special time together.
The facilitator, Brandie Lekovic, will lead you through individualized massage sessions. Sessions include massage oil (if joining an online session see notes) and handouts. Classes are intended for babies who are pre-crawling and provide lots of clever hints on carrying massage into the years to come. Brandie received her training with the International Association of Infant Massage and loved being able to use these tools with her boys.
Live Online Class: 4 sessions = $60.
Private virtual sessions are $75 for a single session or $120 for 2 sessions (giving better chance for practice). You are welcome to invite a group of baby's new friends for an additional $10 per baby.
Refund Policy: When cancelling a prenatal class after it has been booked there is a $25 (CAD) administration fee. If the cancellation occurs less than 14 days before the class there is a 50% cancellation fee. If it is less than 7 days there is no refund.
People who took our online class during COVID-19 had this to say:
Given the continued need to physically distance, the size of our room rentals and the evolving state of our global pandemic, OCEA will continue to offer all classes online throughout 2022.
We dearly want to support the health of expectant families.
Erin is amazing at her job, she made the class easy to listen and follow. Her energy brought the class to life, as it was filled with tons of information. It says a lot that it held my husbands full attention throughout ! Great class , great instructor!
This was an excellent course and Erin was wonderful. She answered questions with clarity, had a wealth of knowledge and experience, gave relevant examples, and was non-judgmental and open. I already recommended this class to another expecting family because I do not know how we would have gained this knowledge without it. The science and evidence base at the center of the class was really refreshing and useful because the wealth of information online is generally confusing and contradictory. Erin cleared up so much of that confusion for us. Thank you!!
Julia was very informative and engaging. She kept the topics interesting through the online format.
Really enjoyed this class. So informative! I would definitely recommend it to friends who are about to become new parents. Erin was an excellent instructor and did a great job presenting the information. Particularly amazing how quickly this class was adapted from in-class to online and how thorough and easy to follow it was. Our confidence as soon-to-be new parents has increased exponentially since taking this class. Thank you!
Julia has been very patient and has a really calm way about explaining difficult things which was very helpful
This course was provided via zoom and I don't feel like I missed out on anything by participating virtually. The instructor was extremely knowledgeable and answered every question. I felt her sympathy for all of the birthing women during this COVID19 environment.
Erin was an outstanding educator. You can tell she really enjoys what she does. She has a huge wealth of knowledge and wisdom and is very skilled at sharing it and making it easy to understand. The use of props, play-alongs/demos , videos, images, slides, breakout groups, etc., were done. Online courses are challenging, but Erin made it engaging and the two days went by much better — and were much for fun— than I was expecting!
This class was great! She was so well prepared and had wonderful images and props and ways of explaining things that made learning about giving birth very accessible.
She was very informative and very kind. Thank you again for starting a chat at the end of the class about how all of us were doing and suggesting that we check in again in a week.
The prenatal class we took with OCEA was informative and reassuring. We appreciated the experience our instructor brought to the class both as a midwife and a mom. We appreciated that facts were shared in context to make stats less scary as well as providing a broader understanding of labour and delivery. Would recommend!
It was useful to understand the real benefit of breastfeeding compared to formula, as opposed to all the judgemental information that is out there.
The OCEA prenatal course was amazing. We are first time parents and honestly didn't know what to expect or how to prepare for the arrival of our baby. This course and Brandie were excellent and have really helped us prepare with the most useful in depth information. It was more than we could have hoped for. .
Reset Filters
There are no classes to display for these filters. Try selecting different filters or use the reset filters button.
Infant Massage
4 weekdays


FULL


Tue, April 4 · April 11 · April 18 & April 25, 2023
10:00 AM - 11:00 AM
Online using Zoom
Register now


Infant Massage
4 weekdays
Tue, June 6 · June 13 · June 20 & June 27, 2023
10:00 AM - 11:00 AM
Online using Zoom
Register now


Infant Massage
4 weekdays
Tue, June 6 · June 13 · June 20 & June 27, 2023
10:00 AM - 11:00 AM
Online using Zoom
Register now