Infant Massage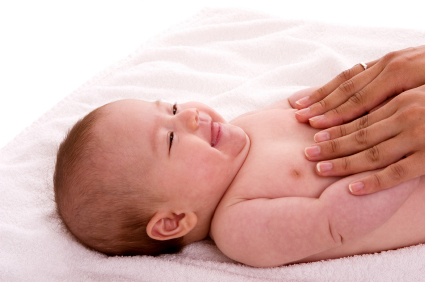 Infant Massage has been shown to increase oxytocin (the feel-good hormone) and decrease cortisol (the stress hormone) for both babies and caregivers. We all need a little more of this! While others are physically distancing - we will be encouraging special contact with those you care about and have in reach.
OCEA is offering Live Virtual opportunities to learn this skill and to connect (with us, others, and your baby). Classes run for 4 sessions for $60.
Infant massage is a natural way to nurture and care for your baby. We tend to do it while holding them - without even thinking about it. Infant Massage classes teach a full body massage routine, the benefits of individual strokes, ways to communicate with your baby and to have some very special time together.
The facilitator, Brandie Lekovic, will lead you through individualized massage sessions. Sessions include massage oil (if joining an online session see notes) and handouts. Classes are intended for babies who are pre-crawling and provide lots of clever hints on carrying massage into the years to come. Brandie received her training with the International Association of Infant Massage and loved being able to use these tools with her boys.
Live Online Class: 4 sessions = $60.
Private virtual sessions are $75 for a single session or $120 for 2 sessions (giving better chance for practice). You are welcome to invite a group of baby's new friends for an additional $10 per baby.
Refund Policy: When cancelling a prenatal class after it has been booked there is a $25 (CAD) administration fee. If the cancellation occurs less than 14 days before the class there is a 50% cancellation fee. If it is less than 7 days there is no refund.
People who took our online class during COVID-19 had this to say:
Given the continued need to physically distance, the size of our room rentals and the evolving state of our global pandemic, OCEA will continue to offer all classes online throughout 2022.
We dearly want to support the health of expectant families.
Great class! Would definitely recommend it!
I liked how much this course included the partners I to the discussions and empowered them to be an integral part of my he birth process.
OCEA's classes are fantastic! I have taken a handful and learned a bunch from each one. The facilitators are stellar, every class is worthwhile
I've taken two courses with OCEA, and both were chock-full of useful and practical information and tips. I like that the instructors were careful about discussing the evidence for various claims, and were very engaging and responsive to questions.
It was nice to be at home and be able to adjust our computer, seating, etc. at our leisure.
This class was great! She was so well prepared and had wonderful images and props and ways of explaining things that made learning about giving birth very accessible.
Lilly is an amazing educator! I was so anxious before taking this course but looked forward to each class as I learned so much and it answered questions I didn't even know I had. Lilly is so knowledgeable and kind and unbiased and has a nice sense of humour too! It was a pleasure to learn from her each week. Thanks Lilly!
We really appreciated the very frank, honest, non-judgemental explanations. It has helped us to separate the facts from the opinions.
Erin provided good information regarding on screen time with infants/children which is something that we have always been concerned about.
Excellent instructor, could not have asked for better.
I liked the structure, and being muted at home meant my partner and I could talk about the information as we were learning it.
Julia was funny, witty and had good energy throughout the class. She delivered the ingormation calmly and simply. We absolutely adored her as our educator!
Reset Filters
There are no classes to display for these filters. Try selecting different filters or use the reset filters button.
Infant Massage
4 weekdays
Tue, June 6 · June 13 · June 20 & June 27, 2023
10:00 AM - 11:00 AM
Online using Zoom
Register now