Infant Massage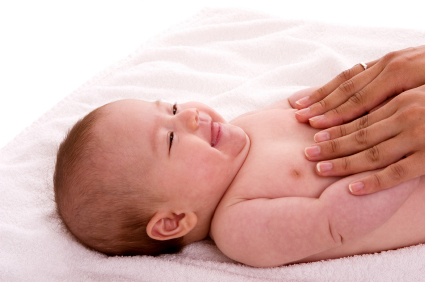 Infant Massage has been shown to increase oxytocin (the feel-good hormone) and decrease cortisol (the stress hormone) for both babies and caregivers. We all need a little more of this! While others are physically distancing - we will be encouraging special contact with those you care about and have in reach.
OCEA is offering Live Virtual opportunities to learn this skill and to connect (with us, others, and your baby). Classes run for 4 sessions for $60.
Infant massage is a natural way to nurture and care for your baby. We tend to do it while holding them - without even thinking about it. Infant Massage classes teach a full body massage routine, the benefits of individual strokes, ways to communicate with your baby and to have some very special time together.
The facilitator, Brandie Lekovic, will lead you through individualized massage sessions. Sessions include massage oil (if joining an online session see notes) and handouts. Classes are intended for babies who are pre-crawling and provide lots of clever hints on carrying massage into the years to come. Brandie received her training with the International Association of Infant Massage and loved being able to use these tools with her boys.
Live Online Class: 4 sessions = $60.
Private virtual sessions are $75 for a single session or $120 for 2 sessions (giving better chance for practice). You are welcome to invite a group of baby's new friends for an additional $10 per baby.
Refund Policy: When cancelling a prenatal class after it has been booked there is a $25 (CAD) administration fee. If the cancellation occurs less than 14 days before the class there is a 50% cancellation fee. If it is less than 7 days there is no refund.
People who took our online class during COVID-19 had this to say:
Given the continued need to physically distance, the size of our room rentals and the evolving state of our global pandemic, OCEA will continue to offer all classes online throughout 2022.
We dearly want to support the health of expectant families.
I enjoyed the fact that we were at home, it made my wife more comfortable to be able to use our own bathroom and have snacks on hand etc. It also allowed us to must ourselves during the discussion and make comments to each other privately when an issues or decision that we wanted to discuss came up.
The prenatal class we took with OCEA was informative and reassuring. We appreciated the experience our instructor brought to the class both as a midwife and a mom. We appreciated that facts were shared in context to make stats less scary as well as providing a broader understanding of labour and delivery. Would recommend!
Last weekend I was feeling super anxious about the unknowns of the birthing process, particularly in light of Covid-19. I feel so much better now after having taken this course. I feel much more educated, adequately prepared, and the fear of the unknown - while not gone, is way more in check now. Thank-you!
Easy going, could speak up and ask questions without feeling judged.
LOVED Erin, her knowledge and experience, her positive non-judgemental attitude, her stories, everything. We truly enjoyed the class and were sad when it ended!
Julia was funny, witty and had good energy throughout the class. She delivered the ingormation calmly and simply. We absolutely adored her as our educator!
Brandie was great! She was non-judgemental, calm, and made it all feel informative but not scary. We weren't sure what to expect and felt that we had an instructor who valued healthy mom, healthy baby and involved partner more than anything else. That was really important to us.
I could not speak more highly of Brandie! She is an absolutely phenomenal instructor - knowledgeable, personable, well-spoken, organized - I could go on! She used props to help illustrate concepts, answered a wide variety of questions, provided resources, and engaged the group (not easy over Zoom). She also stayed online as long as needed after each session to answer any additional questions that arose. Taking this course alleviated my fears about childbirth and increased my confidence. I would highly recommend her to anyone!
We would highly recommend the OCEA's Bringing Home Baby class to any expecting parents. Our instructor was extremely knowledgeable and was very generous with sharing her time and vast experience. This was incredibly useful in helping us navigate the overwhelming amount of information available and left us with a great overview of the most important points of caring for a new baby as well as a long list of quality resources for more detailed information when we need it. Thank you so much Erin!
She was very informative and very kind. Thank you again for starting a chat at the end of the class about how all of us were doing and suggesting that we check in again in a week.
Erin was absolutely amazing! The way she teaches is so engaging and funny and the two full days spent together over Zoom flew by. She was extremely knowledgeable and helpful and her approach was very open, kind, and non-judgmental.
Lilly is awesome. She presented information in helpful ways that felt really supportive. I went into the class kind of panicked and came away with a sense of confidence and trust in my abilities.
Reset Filters
There are no classes to display for these filters. Try selecting different filters or use the reset filters button.
Infant Massage
4 weekdays
Mon, Jan. 9 · Jan. 16 · Jan. 23 & Jan. 30, 2023
10:00 AM - 11:00 AM
Online using Zoom
Register now


Infant Massage
4 weekdays
Mon, Feb. 6 · Feb. 13 · Feb. 20 & Feb. 27, 2023
10:00 AM - 11:00 AM
Online using Zoom
Register now


Infant Massage
4 weekdays
Tue, April 4 · April 11 · April 18 & April 25, 2023
10:00 AM - 11:00 AM
Online using Zoom
Register now


Infant Massage
4 weekdays
Tue, June 6 · June 13 · June 20 & June 27, 2023
10:00 AM - 11:00 AM
Online using Zoom
Register now


Infant Massage
4 weekdays
Tue, June 6 · June 13 · June 20 & June 27, 2023
10:00 AM - 11:00 AM
Online using Zoom
Register now